Mr. Cruze and the 30th Annual Summer Spectacular!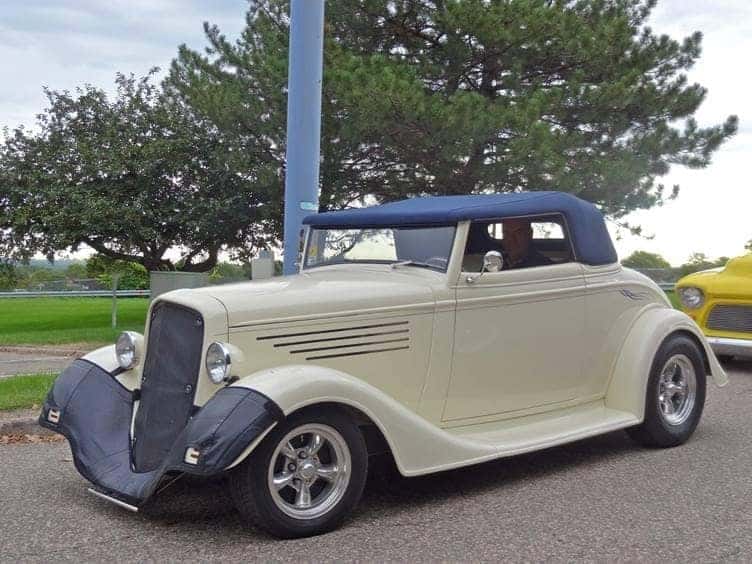 It's 2005, and The Southern Cruzers have had a 16-year tradition of what they call the "Friday Night Cruise & Saturday Car Show" during Lakeville's Pan-O-Prog Parade. But the Cruise has become so popular (drawing in twice the amount spectators the parade is used to) that they have to move locations. So the "Friday Night Cruise" decides to officially pitch its tent south of the river at the Dakota County Fairgrounds, promptly changing its name to the "Summer Spectacular". The Cruzers now get together to discuss ideas on how to make this event one of the best! They settle on 3 main elements: A Car Show, Business/Shopping Expo & Swap Meet with a lot of food and fellowship. But an event as elaborate as this would require some dedicated personalities.
Cue Tim Hanna, a now 12-year Southern Cruzer, Street-Rod of the year nominee, and just one of the many faces behind the Summer Spectacular. Tim had always enjoyed going to car shows, but it wasn't until 2006 that his involvement with the club finally kicked into gear. After attending a "Back to the 50's" event put on by the MSRA (Minnesota Street Rod Association), Tim expressed interest in the member-exclusive magazine, Linechaser. Linechaser is the MSRA's award-winning, 100+ page monthly catalog filled cover-to-cover with photos and valuable member information. Not having a hot-rod to his name at that time, Tim assumed he wouldn't be able to join. However, the board members assured him that he didn't need a car to become a member, just enthusiasm!
"But I always wanted a show car of my own," Tim said, "and it was kind of my goal to be on the cover of Linechaser, but [I] had to be nominated." Tim soon became a member of the Southern Cruzers and promptly purchased a hot-rod of his own. From there, it was off to the races!
Tim's dream of having his street-rod on the cover of Linechaser had a shifty start the following year when his 1935 Chevrolet Cabriolet was deemed ineligible due to a missing windshield wiper. But after a preserved winter and wiper bestowed upon its windshield, Tim's street-rod was nominated as Street-Rod of the Year that spring and cruised its way right on to the cover of Linechaser!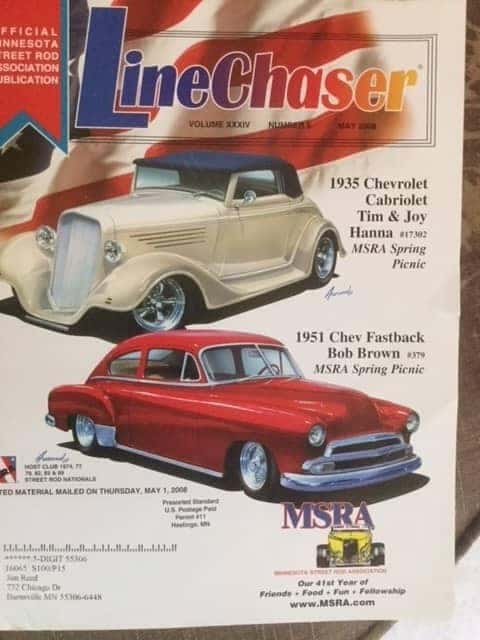 We asked Tim what he loved most about the Southern Cruzers and why he's remained a faithful member for 12 years. His short and simple response was, "It's family-oriented." The club has grown to become a community of almost 190 members. And though Tim admits that it mainly consists of couples who are "up in their years," he said that the Southern Cruzers is a group for anyone interested! "We do it together. And the wives are just as active as the husbands."
This year marks the 30th Annual Summer Spectacular, which was created to run based on what you want! So forget about long lines, excessive registration forms, and dirt roads that cloud your fresh coat of paint. Count on parking on the grass next to your friends, voting for Best of Show trophy winners, and participating in (or spectating) limitless entertainment activities. Take it from Tim, who remarked, "It satisfies everyone's wants."
This is a charity event, rain or shine. While there are many small affairs and "mini-shows" that take place throughout the year, the Summer Spectacular is inarguably the largest event that the Southern Cruzers host. Since 2005, the Southern Cruzers have donated over $104,000 to local charities and scholarships. It's no wonder why people like Tim give their time and energy to clubs like the Cruzers. We are proud to be sponsoring this year's Summer Spectacular, and can't wait to be a part of another community get-together!
Summer is a bittersweet goodbye in the state of Minnesota. So bring it to a close the right way by rolling down your windows and cruising over to the Dakota County Fairgrounds on Saturday, August 25th. Rows of freshly shined show cars of all makes, models, and years will be there. And who knows, maybe some Apple Autos vehicles too!
For more information, visit http://www.thesummerspectacular.com/