Show Your Support to Wounded Vets and Sign the Most Patriotic Truck of All Time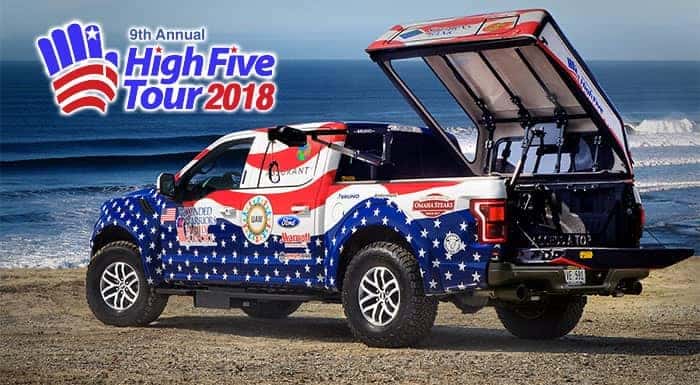 Nothing says Country Pride quite like a red, white, and blue Ford F-150 Raptor cruising across the United States. The Wounded Warriors Family Support (not to be confused with Wounded Warriors Project) assists the families of those who have been wounded, injured, or killed during combat operations. And every year, they conduct an exemplary road trip around the United States called the High-Five Tour.
But don't be fooled by the modest name, the High-Five tour gives more than a couple hand slaps and thumbs ups to its supporters. Veterans from all across the country volunteer to embark on this 8-month endeavor, traveling coast to coast, thanking Americans for their support and appreciation of the sacrifice our Nation's military families have made. Those who donate are encouraged to sign the tour bus, (a.k.a. the Raptor!) and at the end of the tour, 25,000 miles later, the truck is donated to a deserving veteran and his family.
If you think this 2018 Ford F-150 Raptor looks patriotic on the outside, you should see the inside. The interior of this Raptor is made of 100% adaptive equipment, making it possible for severely injured veterans to drive safely and confidently. From hand-controlled pedals to wheelchair access, to full-mobility seats, the Raptor is made to heed to the specific needs of the individual veteran.
Wounded Warriors Family Support is taking on its 9th annual tour this year and is on its way to Apple Ford Shakopee right now! We are honored to be supporting WWFS and would love to see you this Tuesday, September 4th showing your appreciation for our veterans.